Datasheet Linear Technology LT8608EMSE#PBF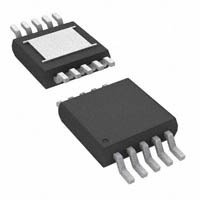 42 V, 1.5 A Synchronous Step-Down Regulator with 2.5 μA Quiescent Current
Datasheets
Manufacturer's Classification
Power Management > Switching Regulator > Step-Down (Buck) Regulators > High Input Voltage Buck
Other Names: LT8608EMSEPBF, LT8608EMSE PBF
Docket:
LT8608
42V, 1.5A Synchronous
Step-Down Regulator with 2.5ВµA
Quiescent Current
Features Description Wide Input Voltage Range: 3.0V to 42V
nn Ultralow Quiescent Current Burst ModeВ® Operation:
nn <2.5ВµA I Regulating 12V to 3.3V
Q
IN
OUT
nn Output Ripple <10mV
P-P
nn High Efficiency 2MHz Synchronous Operation:
nn >92% Efficiency at 0.5A, 5V
OUT from 12VIN
nn 1.5A Continuous Output Current
nn Fast Minimum Switch-On Time: 35ns
nn Adjustable and Synchronizable: 200kHz to 2.2MHz
nn Spread Spectrum Frequency Modulation for Low EMI
nn Allows Use of Small Inductors
nn Low Dropout
nn Peak Current Mode Operation
nn Accurate 1V Enable Pin Threshold
nn Internal Compensation
nn Output Soft-Start and Tracking
nn Small 10-Lead MSOP Package The LTВ®8608 is a compact, high efficiency, high speed
synchronous monolithic step-down switching regulator
that consumes only 1.7ВµA of quiescent current. The LT8608
can deliver 1.5A of continuous current. Top and bottom
power switches are included with all necessary circuitry
to minimize the need for external components. Low ripple
Burst Mode operation enables high efficiency down to
very low output currents while keeping the output ripple
below 10mV....
RadioLocman on the Social Web: